Santa Clara Eichler
Townhomes
Pomeroy West & Pomeroy Green Eichler
Santa Clara doesn't have Eichler single-family homes but does have two of his townhouse developments, at the corner of Benton and Pomeroy. There's a co-op called Pomeroy Green with 4-bedroom/2.5-bath two-story townhouses. Apparently the co-op status makes finding a lender a challenge. Next door is a conventional townhouse development, Pomeroy West, also with a 4/2.5 of 1476 but also offering very unusual one-story atrium townhomes. The contemporary scene in Santa Clara is very much about the same. John Mackay who left his mark on South Palo Alto, built so many contemporaries here in 1954 and 1955—over 900—that his name is local shorthand for "contemporary", much as "Eichler" is further north.
Boyenga Team Sells Eichler TownHomes in Santa Clara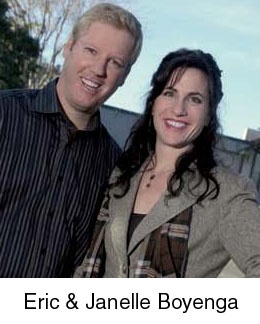 As a top-producing husband and wife real estate team at Intero Real Estate, Eric and Janelle of the Boyenga Team offer persistent and aggressive marketing and the best real estate exposure in all the cities encompassing Santa Clara County. With over 30 years of combined real estate experience and backgrounds in design, communication, marketing, staging, spec-housing, construction and sales, our team can give you the representation you deserve.
---
Map of Santa Clara Eichler Townhomes

View Santa Clara Eichler Townhomes in a larger map
---
Boyenga Team
Eichler Home Portfolio
No listings were found matching your search criteria.
---
CLICK HERE for the EICHLER HOME LISTING ALERT!
Please feel free to browse through this site to explore any, and all of Silicon Valley's finest neighborhoods. This comprehensive home buyer/seller tool offers direct access to the latest properties for sale in Silicon Valley (Santa Clara & San Mateo Counties.) Featuring extensive community information, Silicon Valley consumer links, Silicon Valley rentals, Silicon Valley school information, free home reports, answers to commonly asked real estate questions, and more, you will find everything about Silicon Valley real estate within one easy source.
Contacting the Boyenga Team is the best way to learn more about Silicon Valley real estate. Feel free to call us at 408.373.1660, 650.497.4645 or send Boyenga Team an email.