For Sale By Owner..Part 2
You certainly don't need to hire a REALTORS® to sell your home. If you'd like to do it yourself, we can highly recommend George Devine's Nolo Press Book "For Sale By Owner"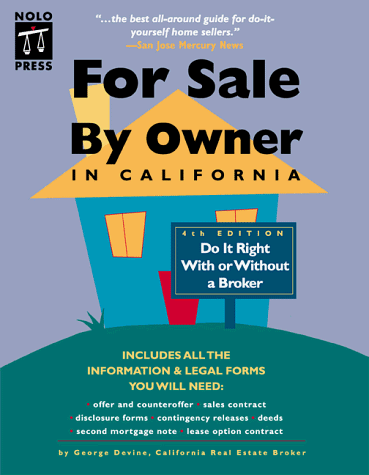 Sellers go "by owner" for Several Reasons:
They Want To Save The Commission
First... you'll be earning the commission yourself, not really saving it.
To save the most on commission, look for a buyer who doesn't have an agent to represent them. Those buyers consider your home because they figure they can get it for a lower price. They offer less because they know you can sell it for less. You're both looking to save the commission!
They Want To Do It Themselves
Nothing wrong with that! And if everything goes smoothly, you'll probably do fine. It's similar to flying cross country. When the weather's good, even a novice can handle the flight. When the weather gets bad, you want an experience pilot at the controls. We solve problems on every transaction we're involved in!
They Want To Negotiate Themselves

Some folks are experienced negotiators.... others believe that negotiations have to be "hard ball". We've found that buyers are put off by hardball tactics... and respond very well to persuasive techniques. We use the 8 Magic Words...
They Don't Realize All That REALTORS® Do!
Here is a FREE offer for You. I will post your home (one picture and 4 lines of copy) on my FSBO web site listing page. For an additional $100 I will do a 10 shot visual tour and post to the internet as well as add to your listing on the web.
If you are a "FSBO's" looking for some extra "free" exposure for your home you have come to the right place. This section of my website has been created especially for you to give you additional exposure for your property to the many potential buyers that make use of the web as part of their house-hunting every day.
Because my website is nationally advertised and exposed, I have tons of people looking through its pages every day for "new listings" for sale.
It is a proven fact that the more often you change and / or add to your web site the higher you will stay in the search engines. So this gives you more chance to stay with in the search engines.
Although most sellers end up eventually listing, some sellers do sell themselves and during this process, their buyer needs a full-time experienced real estate practitioner to market their home, or you as a seller will need a real estate professional to help you consummate or negotiate the transaction and coordinate the closing. If you don't end up selling "By Owner" You may end up needing the services of a professional You will have someone to call that has already given you something "first".
It is a proven fact that most "For Sale By Owner" sellers will eventually list their home with a real estate agent. So, if I can help you now, when and if the time comes that you decide to "list" your home With a REALTOR(TM) you will interview me first. WHEN YOU LIST, ALL FEES PAID IN ADVANCED ARE CREDITED BACK TOWARDS COMMISSION AT CLOSING.
We can help each other. Your prospect may decide against your home for whatever reason. Maybe I will have access to a home that pleases them. Maybe a prospect that I have doesn't find what he needs in the listings that I offer him - yet he may like your house. Together we help expose each other's properties. You see, most buyers will not even have an interest in your property nor will all potential buyers that I have interests in what I can offer for sale through the MLS. By marketing the "homes for sale" together we can BOTH get more exposure and potential sales. This can work, just give me a call at the office or email me for an appointment and we can discuss my "plan" a greater length..
By the Way...
If you do produce your own buyer, remember I can be the transaction coordinator and put the deal together and coordinate the closing for you for a flat fee.
What are you waiting for?
For Sale By Owner
RESOURCES
Please feel free to browse through this site to explore Silicon Valley's finest developments. This comprehensive tool offers direct access to the latest properties for sale in the Greater Silicon Valley. Featuring extensive community information, consumer links, rentals, school information, free reports, answers to commonly asked real estate questions, and more, you will find everything about real estate within one easy source.
Contacting the Boyenga Team is the best way to learn more about the real estate market. Feel free to call us at 408.373.1660, or send us an email by clicking here.
Contact The Boyenga Team Today!