Eichler Siding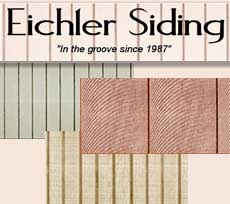 Keep that great look that matches the distinctive Eichler groove when repairing or remodeling. Jeff and Annette Nichols of Eichler Siding have been serving satisfied Eichler owners and contractors for almost two decades. Their three Eichler grooves are available in Douglas Fir, MDO, and Breckenridge. Deliveries throughout the Bay Area.
Contact Eichler Siding
Telephone:
415: 883-5300
Website:
www.eichlersiding.com
Email:
jeff@eichlersiding.com
CLICK HERE for the EICHLER LISTING ALERT!
Please feel free to browse through this site to explore some of Eichler's finest neighborhoods. This comprehensive tool offers direct access to the latest properties for sale in Eichler. Featuring extensive community information, Eichler consumer links, rentals, school information, free reports, answers to commonly asked real estate questions, and more, you will find everything about Eichler real estate within one easy source.
Contacting the Boyenga Team is the best way to learn more about the Eichler real estate market and Eichler homes for sale. Feel free to call us at 650.947.4645, or send us an email by clicking here.
No listings were found matching your search criteria.