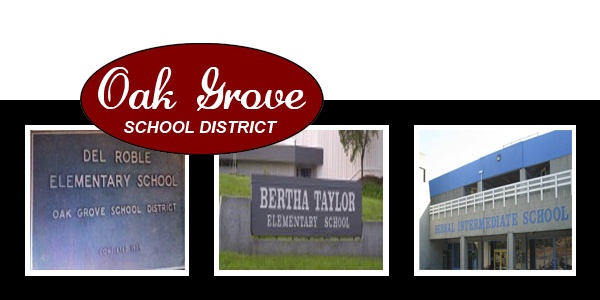 #2-page-oak-grove-elementary-school-district-south-san-jose#
| | | |
| --- | --- | --- |
| Oak Grove Elementary Schools | | Oak Grove Intermediate Schools |
| | | |
| | | |
| | | |
| | | |
| | | |
| | | |
| | | |
| | | |
| | | |
| | | |
| | | |
| | | |
| | | |
| | | |
| | | |
| | | |
| | | |
---
Santa Teresa Market Activity
Santa Teresa is a neighborhood in the south of San Jose, California, USA. It is east of Almaden Valley, surrounding Santa Teresa Boulevard, with access to Highway 85. Santa Teresa County Park borders the neighborhood.
The Santa Teresa area is home to the Bernal-Gulnac-Joice Ranch, a historic ranch on the border of the southern hills about a dozen blocks west of one entrance to Santa Teresa County Park. The ranch was once an important one, holding many Spanish farmers and Ohlone Indians
---

| | |
| --- | --- |
| | |
| | |
| | |
| | |
| | |
| Santa Teresa Real Estate Widgets | |
Please feel free to browse through this site to explore one of Santa Teresa's finest neighborhoods. This comprehensive tool offers direct access to the latest properties for sale in Santa Teresa. Featuring extensive community information, consumer links, rentals, school information, free reports, answers to commonly asked real estate questions, and more, you will find everything about Santa Teresa real estate within one easy source.
Contacting the Boyenga Team is the best way to learn more about the Santa Teresa real estate market. Feel free to call us at 408.373.1660, or send us an email by clicking here.
Contact The Boyenga Team Today!
#idx-oak-grove-elementary-school-district-santa-teresa-south-san-jose#