The Olson Company
About The Olson Company
In-town, in style, and in reach. Since 1988 The Olson Company has applied this mantra to every community we build by pioneering California's move to urban living. You'll find that Olson communities always enjoy close proximity to shopping, dining, entertainment and recreation, including restaurants, cafes and theaters, plus public parks, schools and community resources. Moreover, public transportation also represents a key benefit of the Olson lifestyle, with many Olson communities located within short walking distance to a variety of convenient local transit options. Further, we combine thoughtful, innovative home design with the highest quality materials and expert craftsmanship to ensure that each Olson home offers a smart and stylish environment that allows our homeowners to enjoy life at home to its fullest. Finally, we work hard to design attainably priced communities that place a convenient, comfortable and vibrant urban lifestyle within reach of millions of Californians. By building stylish new homes in California's most exciting neighborhoods at prices that offer the highest possible value, The Olson Company brings the good life in town, in style and in reach.
The Boyenga Team Sells Arcadia Homes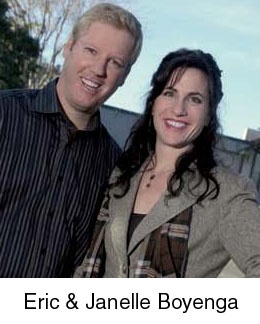 As a top-producing husband and wife real estate team at Intero Real Estate, Eric and Janelle of the Boyenga Team offer persistent and aggressive marketing and the best real estate exposure in all the cities encompassing Santa Clara County. With over 30 years of combined real estate experience and backgrounds in design, communication, marketing, staging, spec-housing, construction and sales, our team can give you the representation you deserve.
Free Automated Property Toolkit for finding your home Today!
With your free Buyer/Seller Property ToolKit you get instant access to properties as soon as they hit the market in Silicon Valley. Signing up is easy, and you can opt-out at anytime. Complete the form below, to be alerted via email anytime a new property becomes available in Santa Clara & San Mateo Counties.
Contact The Boyenga Team Today!
Please feel free to browse through this site to explore Silicon Valley's finest neighborhoods. This comprehensive tool offers direct access to the latest properties for sale. Featuring extensive community information, consumer links, rentals, school information, free reports, answers to commonly asked real estate questions, and more, you will find everything about real estate within one easy source.
Contacting the Boyenga Team is the best way to learn more about various builder's in the real estate market. Feel free to call us at 650.947.4645, or send us an email by clicking here.