Mid-Century Modern Architecture
(Continued)
with ample windows and open floor-plans with the intention of opening up interior spaces and bringing the outdoors in. Many Mid-century houses utilized then-groundbreaking post and beam architectural design that eliminated bulky support walls in favor of walls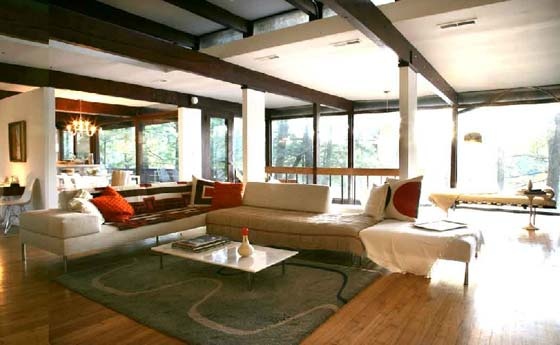 seemingly made of glass. Function was as important as form in Mid-Century designs, with an emphasis placed specifically on targeting the needs of the average American family. Examples of residential Mid-Century modern architecture are frequently referred to as the California Modern style.
Pioneering builder and real estate developer Joseph Eichler was instrumental in bringing Mid-Century Modern architecture ("Eichler Homes") to subdivisions in the San Francisco Bay, Los Angeles as well as a few select housing developments in Sacramento and the East Coast. Eichler, as well a few competitors John Mackay, used the services of Anshen & Allen an architecture firm for the de the Other builders George Fred Keck, Henry P. Glass, and Ludwig Mies van der Rohe created Mid-Century Modern residences in the Chicago area. Mies van der Rohe's Farnsworth House is extremely difficult to heat or cool, while Keck and Glass were pioneers in the incorporation of passive solar features in their houses to compensate for their large glass windows.
Please feel free to browse through this site to explore each of the very unique Mid-Century Modern neighborhoods throughout the Bay Area. This site offers direct access to the latest Mid-Century Modern homes for sale throughout the Bay Area. Featuring extensive Mid-Century Modern community information, Mid-Century Modern consumer links, Mid-Century Modern rentals, Mid-Century Modern resources, Mid-Century Modern History, answers to commonly asked real estate questions, and more, you will find everything about Mid-Century Modern real estate within one easy source.
Contacting the Boyenga Team is the best way to learn more about Mid-Century Modern real estate market and Mid-Century Modern homes for sale. Feel free to call us at 650.947.4645, or send us an email by clicking here.
Start Your Mid-Century Modern Property Alert!