Mariani Square Lofts
Between Jackson Street and Empire Street, and 7th Street and 9th Street
San Jose, CA 95112
NUMBER OF UNITS: 45
YEAR BUILT: 2003 - 2004
HOA FEES RANGE: $225 - $240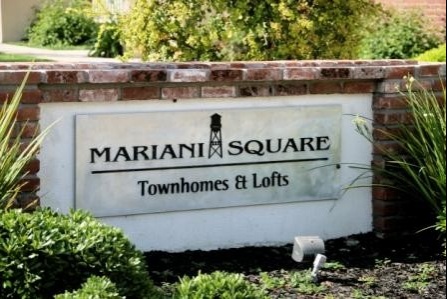 MARIANI SQUARE IS CENTRALLY LOCATED IN SAN JOSE'S HISTORIC JAPANTOWN. THE COMPLEX CONSISTS OF 45 LOFTS AND 114 ROW TOWNHOUSES. OVERLOOKING THE COMPLEX IS THE LANDMARK LARGE GREEN WATER TOWER RETAINED FROM THE FORMER MARIANI PARKING PLANT. MOST OF THE LOFTS IN THE COMPLEX ARE CONVERTED FROM A WAREHOUSE AND RETAIN THE BRICK EXTERIOR. IN ADDITION TO THE BRICK EXTERIOR, THE LOFTS FEATURE HIGH WOOD-BEAM CEILINGS, AND CONCRETE FLOORS. THIS IS URBAN LIVING IN THE SILICON VALLEY.
MARIANI SQUARE LOFTS AMENITIES
CLUBHOUSE/RECREATION ROOM
LANDSCAPED COURTYARDS AND WALKWAYS
IN-UNIT LAUNDRY
CENTRAL HEAT AND AIR CONDITIONING
WOOD-BEAM CEILINGS
CONCRETE FLOORS
KITCHEN OPENS TO LIVING ROOM
LARGE STOREFRONT WINDOWS
CLOSE TO RESTAURANTS AND SHOPS
Click Here to see More Available Condos
Contact The Boyenga Team Today!