Beaux Arts Home Style
(CONTINUED)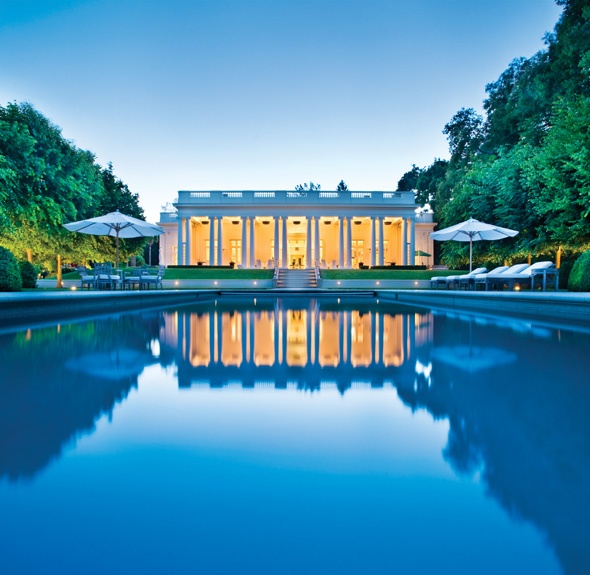 accented by elaborate moldings, dentils, and modillions were just some of the characteristics of this style.
Think of the Vanderbilts. Think of the Goelets. Think of the Belmonts, and the words "American Palaces" come to mind. The Beaux Arts houses of the late 1800s and early 1900s were grand displays of those pre-income tax days when fortunes could be amassed and proudly displayed in true ornate fashion. During the early Beaux Arts days, both New York City and Newport-playground to the nouveau riche-were the settings for these palatial digs. Years later, an economic recession and higher taxes forced the grandest examples of this style to be bulldozed, never to be admired again.

Besides the grand country estates of American Imperialists, the Beaux Arts style was interpreted in imposing row and freestanding town houses. While you probably won't find any Beaux Arts palaces ensconced your neighborhood, there are a few still lingering about. The most notable of these is Frederick William Vanderbilt's 54-room house in Hyde Park, New York. (Frederick's brother, George, built a 255-room Chateauesque mansion in Asheville, North Carolina.)
Please feel free to browse through this site to explore Silicon Valley's finest neighborhoods. This comprehensive tool offers direct access to the latest properties for sale. Featuring extensive community information, consumer links, rentals, school information, free reports, answers to commonly asked real estate questions, and more, you will find everything about real estate within one easy source.
Contacting the Boyenga Team is the best way to learn more about various homestyle's in the real estate market. Feel free to call us at 650.947.4645, or send us an email by clicking here.
Contact The Boyenga Team Today!